In October I had the opportunity to travel to Auckland with the Wallaroos, the Australian Women's XV Rugby Union team, where they played a test against New Zealand. Being a physiotherapist travelling internationally with a sports team is quite a unique and rewarding experience. Days would commence with a full buffet breakfast followed by carrying out screenings on each of the girls. The screenings involved a battery of tests to assess and identify any risk factors likely to increase the likelihood of injury. In particular for Rugby we were interested in assessing the function and strength of the muscles around the hips and pelvis as these were placed under significant load with the intensity of trainings and games. If any of the tests were significantly different from the day before or the baseline scores this was an opportunity for the girls to either do some specific stretching or muscle activation exercises or to receive physiotherapy treatment to try to return the scores to their usual level prior to the next training session or game.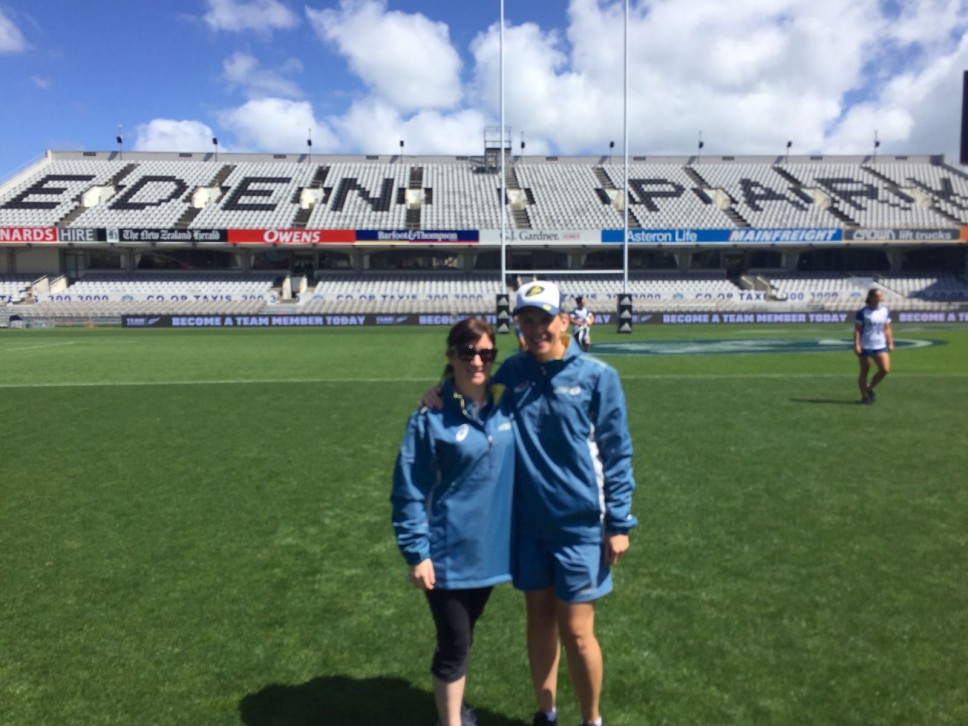 Following the morning screenings we often had an opportunity to assess and treat any of the athlete's injuries and then it was taping time. This involved taping techniques which were either preventative or to support and protect a previous injury, the physiotherapy room was always a buzz of activity at this time. Once the taping was complete it was on to a training session, during these sessions the physiotherapist's role is to be on hand if there are any new injuries or 'niggles' which arise during the session and also to provide advice to the coaching staff if there are certain aspects of training athletes carrying injuries should avoid or modify. On any given day there would be up to two training sessions as well as a gym/weights session. In between these sessions there were times to provide physiotherapy treatment as well as meetings where the physiotherapy and medical staff liaise with the coaching and team management staff to ensure everyone is up to date.
While in Auckland the Wallaroos played a curtain-raiser to the Bledisloe Cup at Eden Park against the New Zealand Black Ferns. On this game day we began as usual with screening assessments and treatment, followed by meetings. The Wallaroos then had media commitments and a jumper presentation which was performed by Australia's Foreign Minister Julie Bishop. After these formalities it was straight to taping, the most common types of taping included ankles, shoulders, knees and thumbs. During the game it is the physiotherapist's role, along with the doctor, to assess any injuries which arise and provide treatment and information to the coaching staff on what if any role the athlete can continue to play in the game. Unfortunately the results didn't go the way of the Wallaroos however it was a great experience for all of the athletes as well as the physiotherapists!
Traveling with a sporting team as a physiotherapist provides a great opportunity to put into practice all aspects of sports physiotherapy including assessment, treatment and management of sporting injuries as well as injury prevention programs. The experience has been a fantastic opportunity which has enhanced my physiotherapy skills which I am excited to be able to bring back and apply to my patients at Restore Physiotherapy and Pilates.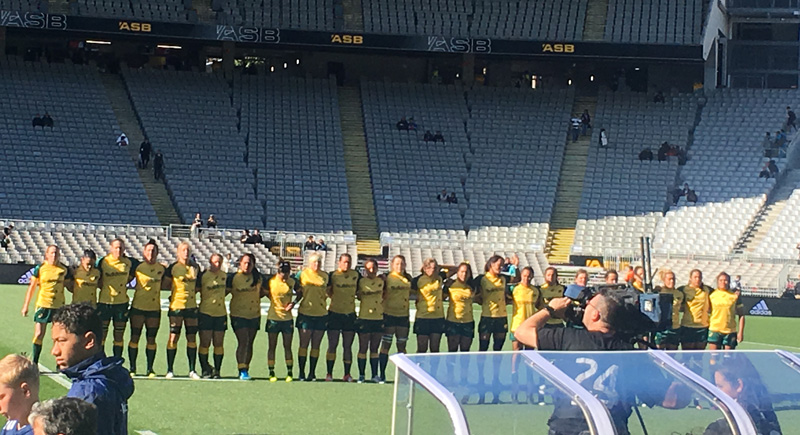 Anna Fisher
Anna graduated from Curtin University in Perth in 2008. She completed a Graduate Certificate in Sports Physiotherapy in 2013 and is in the process of completing a Masters degree in Sports Physiotherapy. Anna has provided physiotherapy services to WAFL and VFL teams and has had experience working with tennis, baseball and rugby teams. She is particularly interested in treating sporting and adolescent injuries.