Restore Physiotherapy and Pilates Co-Director and Richmond Football Club Physiotherapist Stuart McKenzie provides some insights into the secrets of success for the Tigers 2017 Premiership Winning Season.
I was fortunate enough last year to celebrate Richmond Football Club's 11th AFL Premiership as part of the Physiotherapy Team.  I have worked at Richmond FC for the previous 5 years and 2017 was an amazing season both on and off the field.
People often ask me "What was different at Richmond during 2017?"  "Was it the game plan with small forwards creating pressure?", "Was it the superstar individual performances", "Was it luck with no injuries?"  The answer I think relates to much smaller individual things that happen at a football club often months and even years before success is achieved.  These start off as small things, small changes, all contributing, and collectively aligning together at the same time to produce success.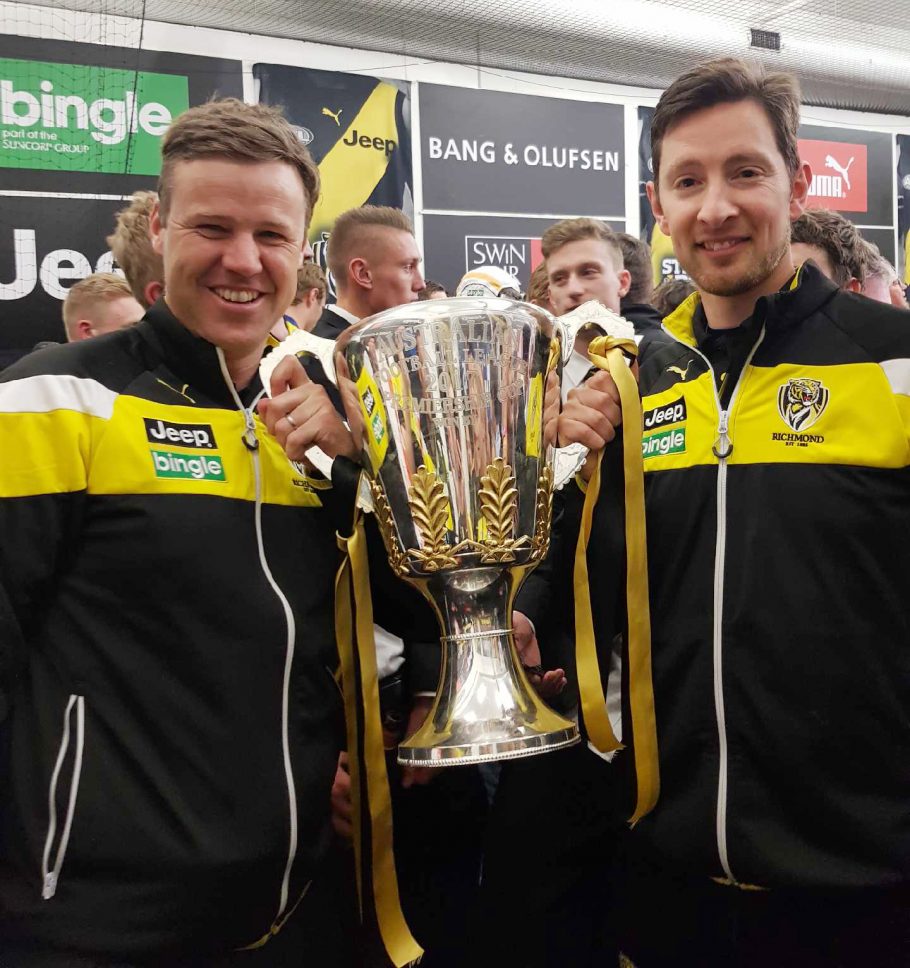 Two small things that happened which I feel contributed to the success of the team. Firstly, the much publicised 'Triple H Sessions' and secondly, allowing the players to have some fun again.
The players started their 2017 campaign with a gruelling 7-day camp on the Sunshine Coast during January in the pre-season.  It was on this camp that new and deeper connections were made between players and staff.  Damien Hardwick, the Richmond Coach of the previous 7 years, introduced the 'Triple H Sessions'.  Each player over the course of the year would get an opportunity to talk in front of all the players and staff about their Hero, Hardship and Highlight.  This powerful team building exercise resulted in players talking about family sicknesses and deaths, broken homes, and often emotional stories about difficult times in life.  Everyone listened, everyone understood each other's different life experiences.  It started numerous conversations between players and a deeper form of trust was established.
The players also developed their own set of values for 2017.  This is not uncommon and I'm sure all clubs do this.  One of these values was 'Celebrate'.  This can have a variety of meanings in different circumstances. For example, celebrate the victories, sing the song loud, celebrate that goal at the end of training, that tackle or spoil that resulted in a turnover.  Each time do it with exuberance.  Make playing football fun again.  Enjoy your own and each other's achievements.  This I think is a great way to build confidence.  Confidence in yourself and the others around you in your team can be very powerful.
Two small things amongst many more.  I'm lucky enough to have shared in the journey to the success of 2017.  As I write this piece from our 2018 training camp, after the players have completed a gruelling training session, close to 4 hours in hot conditions, I'm reminded that success is what ever you define it to be.  The players and staff are even more motivated for further success. Look out for Tigers in 2018!!
Stuart Mckenzie
Co-Director Restore Physiotherapy and Pilates